Event venues are locations where events are taking place. The definition of an event venue can be as endless as the stars in the sky; thus, when selecting the perfect venue for that important event, the sky is the limit. An event venue in simple terms is the location hosting an event. Some venues are more common than others, but there is a never-ending list when creativity comes into play.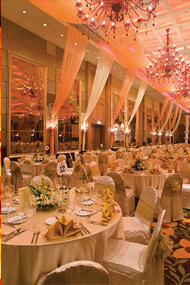 Traditionally, a meeting room, hotel, conference center, restaurant or convention center may come to mind when envisioning the stage where large, note-worthy events are held. However, in today's world where making a great first impression and expressing one's own style has never been more important, there are many newcomers on the traditional event stage. Ballrooms, gardens, rooftops, museums, theaters, yachts, stadiums, universities and even outdoor venues are becoming the norm in providing a unique, tasteful backdrop in creating the perfect atmosphere for business to business forums, as well as weddings and private parties.

Depending on the premise or desired outcome of the planned event, the selected venue can make a tremendous impact. Often guests leave with an overall impression or feeling of a business/person based solely upon their sentiment provided by the atmosphere of the event, as opposed to the product/purpose on display. The memories linger when an event provides a welcoming warmth and invites a personal connection to be obtained by the attendee. Finding the location is a key element in planning the perfect event.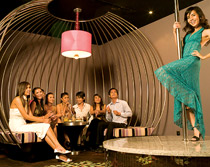 Intimate, smaller groups may find a large conference center superb and projecting an isolated atmosphere. A rooftop, meeting room, restaurant, yacht, garden, or museum could be a more appropriate location to make this a more personal affair for the lower-numbered crowd. In contrast, a larger group might find such settings too personal and prefer a little more elbowroom.

Venues designed for events with a larger number of guests include conference centers, convention centers, hotels, some restaurants, theaters, ballrooms, some gardens, mansions, universities, outdoors, stadiums and yachts. Conference and convention centers provide an ideal fit for events desiring separate spaces for smaller group meetings while including an area for everyone to convene into one large unit. These centers typically house all the equipment necessary for making presentations/dining for crowds, which trims down the amount of resources the host of the event must supply. Considering the essential supplies needed to complete the event is vital when selecting the appropriate venue.

Similarly, weather is an element not to be forgotten during event venue selection. Gardens, rooftops and any space outdoors must include a back-up venue in case of inclement weather.