Event management software can be a lifesaver to anyone responsible for planning events whether it is a national conference, charity event or 50th wedding anniversary celebration.

There are many different types of event management software that can be purchased or leased based on your needs. Some versions with basic management options such as online registration are even offered free online through event management websites.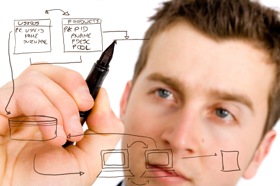 A full service system will allow you to manage every aspect of the event including the budget, registration, exhibits, appointments, housing, travel and email communications.

These systems options can be grouped into a few main categories:

1) Planning
2) Communications
3) Registration
4) Task or Program Management
Planning

The planning modules are used in the conception phases in such tasks at facility management, travel and housing accommodations. Effective software will allow you to manage the event budget, create a theme and track vendors. Organization is vital to successful events and event management software allows you to keep every detail organized in one central tool.

Communication

The communication modules will manage invitations, online registration and event marketing. These systems will allow you to create email templates that can be used across events or personalized to specific tasks. Having the ability to manage your email blasts by sorting attendees with different criteria will make your marketing efforts much more effective.
Registration

The registration modules provide online registration and credit card authorization which is not only convenient for the attendees, but also an excellent resource for the event manager. Today's society demands instant gratification and is far more likely to act if they can register online and view that registration immediately instead of mailing in forms and waiting for a reply. The online registration can automate billing and ticketing of the event reducing staff needs and human error.
Task or Program Management

Gone is the day of clipboard sign up sheets. Task or program management modules allow you to schedule and execute each task of the event. Event software with appointment systems allows attendees to schedule themselves into the seminars or breakout sessions that meet their interest. It can also be used to match candidates with recruiters at job fairs. The appointment management option eliminates guesswork and allows you to plan according to the attendees' interest.

Most software companies allow you to purchase or lease only the tools you need for your event offering an affordable solution to planning any event large or small.