Private events are celebrations with family members and friends. Moments of a lifetime refer to those special events that often happen only once in a lifetime. These private events such as weddings, golden anniversaries and special birthdays are marked with special celebrations.

Celebrations that you want to remember fondly because of the beautiful ambiance created by lighting, decorations, music and food rather than the DJ that alienated the audience or the caterer that ran out of food.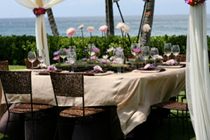 Many people may not realize that large corporations aren't the only ones that benefit from a professional event management company and that engaging our event planner can be an affordable way to make those precious moments in life, or private events, even more memorable.

Whether you are hosting an 80th birthday party in your back yard or a wedding at an exotic location, our event manager can eliminate the stress and ensure the event is flawless. Our event manager can help you choose a venue, plan a menu, visualize a theme, create an event website and carryout the endless details.

Planning private events such as a wedding can become overwhelming as you deal with multiple vendors. Interviewing caterers, entertainers and venues is time consuming and stressful. Hiring a professional event manager will ensure that you have one contact who is tracking all of the details for you.

Red Dot has a database of approved vendors, or we will interview vendors you request, to ensure that your expectations are met. Our event manager may even save you money, as we are able to negotiate prices with our vendors.

Using Red Dot can ensure that your theme carries throughout the event in the decorations, invitations, websites, food, entertainment and photography, providing a lasting image of the wonderful event for you and all of your guests.